Ski Thunder History
Welcome to Big Thunder Ski History
Update Jan 9 2023 (added Thunder II pix from TBone) -
---
Big Thunder 2012
Big Thunder 2012- XVIII
---
Thunder 11 Pack over Steelers Super Bowl XLV Year
Pix in Costco Group Room Costco has a free Photo room, but you need to register with an email address. Send me your email adddress with request to share Album Big Thunder.
---

Thunder History
Big Thunder XVII 2011 Stayed at Redwood House (VRBO # 65363) You Tube movie of Big Thunder 2011 Who Went: Barry, Dave O., Jim, Tony, Bob, Dave V., Lloyd.
Who Didn?t: Hoody out at last second, Martin had unfortunate vision issues, Bill had big plans for Africa, Rich just out,
When: Left on Sat 2/5/11 at 8:00, returned Wed 2/9/2011 at 6:00pm.
We had two groups. Tony traveled from his home in Vancouver Washington in his truck. The rest traveled from SB in rented thunder van. Tony made it to the cabin a couple of hours ahead of the rest and took care of hot tub, groceries, etc.
Where: Went to North Tahoe. Stayed for the first time at the Agate Bay Redwood House 5896 Victoria Road Carnelian Bay. Place was about a mile off lake back in a quiet development. Great Hot tub, 4 bathrooms, 3 bedrooms and a bunk room that was decked out with 4 bunks, air hockey table, bar and small kitchen. Great kitchen, dining room with huge poker table, family room with TV and sounds.
Ski: Sunday ? Northstar. Sunny day, a little warm but plenty of snow. We just worked our way around mountain to find the sweet spots. Left at 2:00pm to get back to see the super bowl.
Monday ? Alpine Meadows. Another Warm Day with a little wind picking up after lunch, Great break at the mid chalet.
Tuesday ? Planned to go to Mount Rose but looked like white-out so went to Homewood instead. Cloudy day with breaks of sun. It was cold (around 20 degrees). Snow was slick and never really broke up.
Dinners: Saturday. Ate tony?s spaghetti he brought up with special garlic bread constructed by Lloyd and green salad by barry.
Super bowl Sunday: Dave V cooked up some ribs on the BBQ along with brats and corn. Lots of other snack goodies while watching superbowl.
Monday: Leftovers
Tuesday: Went to steamers for pizza and salad ? good stuff.
Thunder Saying: Glory Hole
Thunder Spirit Award: Jim for bringing Patron.
Thunder Memories:
Furnace going out on Sat. Night ? Tony and Coach relit it on Sunday morning ? glad it wasn?t like last year!
Superbowl! ? Packers against Steelers with Packers winning.
Superbowl betting. At the casino there were bets on everything from who would score first to who snapped last in half, and on and on and on. No one won any of these. Commish lost a side bet to Bob foolishly taking the Steelers.
Tony created new type of bluffing at poker ? just call the bet.
Dave O. came up with perfect 7-27 hand (4 ? Ace, Ace, Ace). Won low and high
Dave O. and Doubledown winners at cabin and casino.
Dave V. turned us on to Liftopia for discount ski tickets.
Great Hottub.
Tony locking keys in Van at lunch Wednesday at Homewood. Had to wait until AAA came before he got back on hill.
Gear tents at Alpine Meadows
Waxing skiis in the laundry room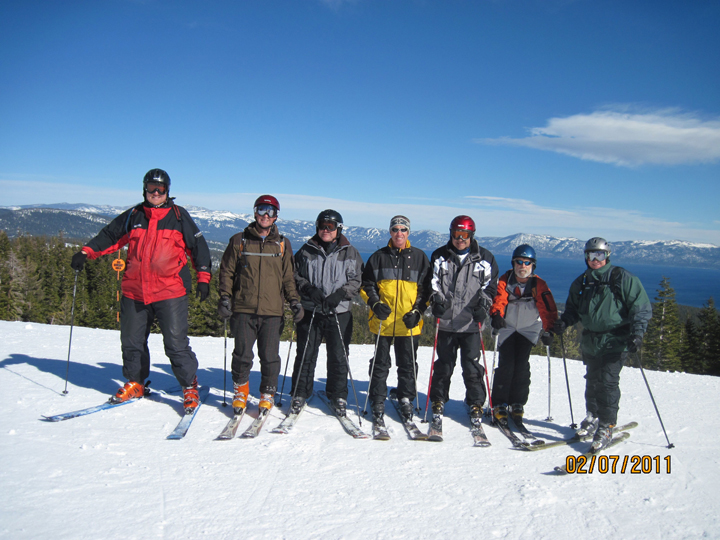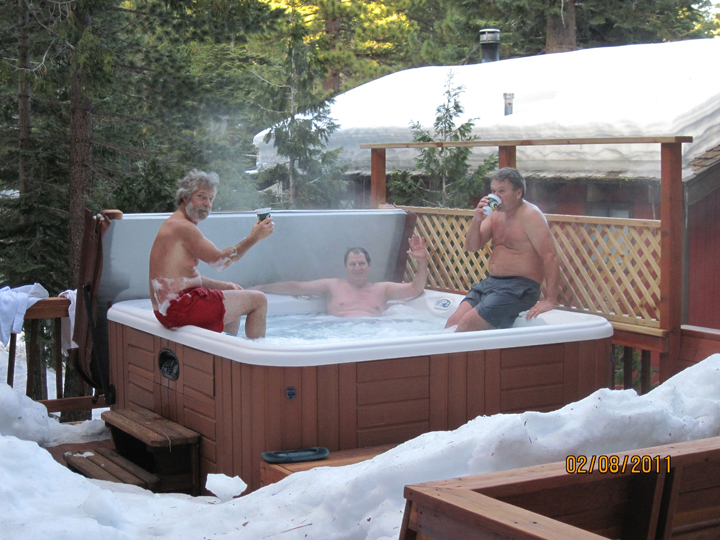 ---

Big Thunder XVI 2010
Location- Back at Morganhause Kings Beach- 5bdrm 3bath 8 beds +converible Hot Tub
Driving up from So Cal : Barry, Coach, Smoke, Bill, Double Down, Jim. Driving high plains drifter from the Northwest, T Bone.
Sign on Tahoe Dave's appreciating Tahoe Olympians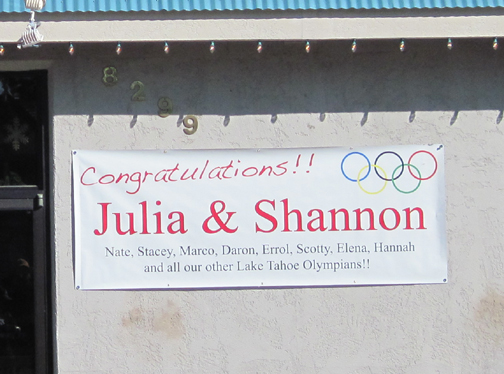 Day 1- Beautiful day at Alpine.
Trip Summary- Morganhouse- No heat 1st 2 days, no firewood. Had to use survival instincts- esp Coach, the Fire Starter. All in all, 3 days of good hard skiing. Mar 7, great day at Alpine Meadows. Mar 8, Almost made it to Sugar Bowl, but wound up at Northstar. Mar 9, 2-fer Tuesday at Mt Rose. Great tree skiing. On the road home, washer fluid freeze. Double Down sets record for passing cars on 46, with 4 cars and 2 semis in one move.
Movie on Big Thunder 2010 Movie
---

Big Thunder XV 2009
Roster- Bill, T-Bone, Coach, Barry, Double Down, Smoke, Jim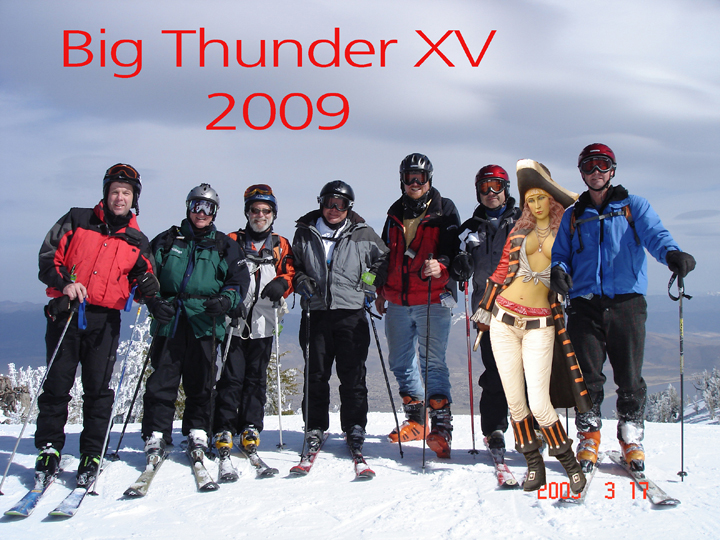 Back on Dolly Varden on north shore. 1st night Double Down Shrimp Crepes were huge hit. Smoke recovering from cold skipped 1st day Ski Homewood, Spring skiing with excellent snow. Day ended with drizzle moving in. Barry and Jim took the experts only "Steep and Deep" run. Poker game Malcolm in the Middle introduced. Dinner was costco beef tenderloin on grill.

Highlight was the Helmet Cam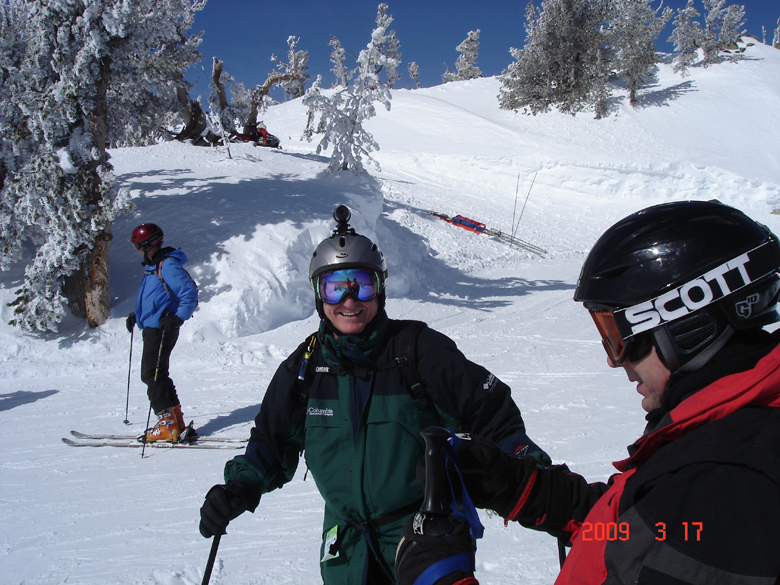 Day 2- the Dolly Varden curse- steady drizzle.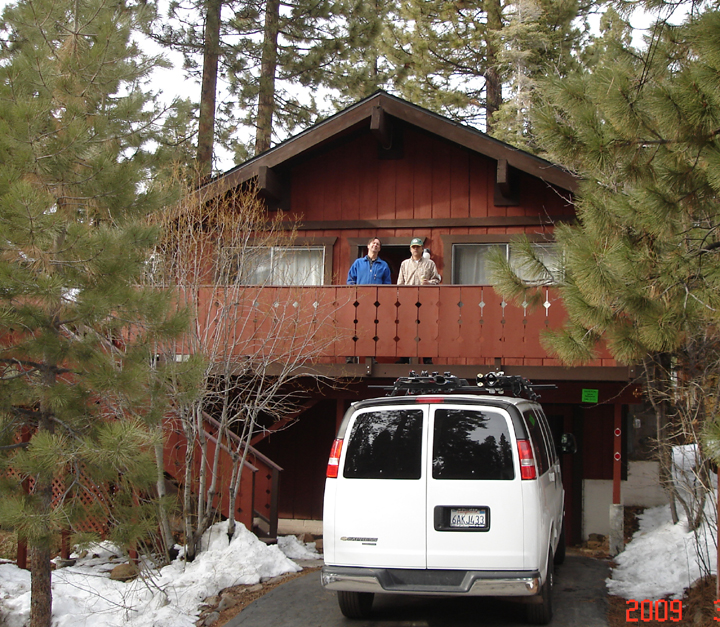 Took roadie to Carson Valley Inn and Grover Hot Springs. Coach big winner in poker. Day 3 was St Patties at ski Mt Rose.
---

Big Thunder XIV 2008
Roster- Bill, T-Bone, Coach, Barry for 1.5 days (Rode up in van, flew home), Hoody, Double Down, Martin, Smoke, and Commish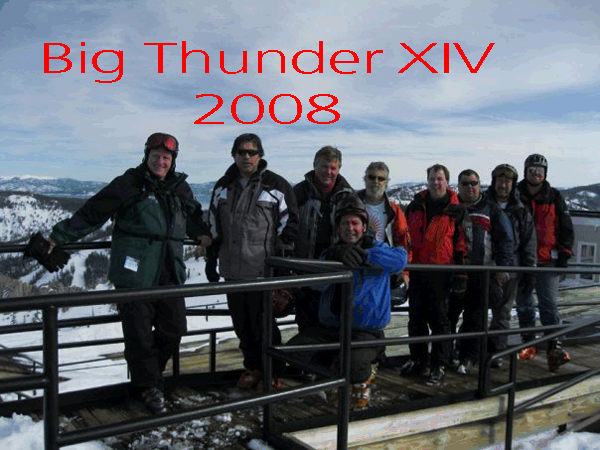 Second year in Brockway House VRBO 13885. Great kitchen, hot tub, and walk to Cal Neva.
Everyone rode up in van. Notable memory- stopped on I-80 due to snow and only 1 12 pack. Double down stopping traffic. Notable meal- Fish and Chips with home made Tartar sauce by Chef Martin. Skiied Squaw then Mt Rose 2 days in row. Weather was all pure bluebird skies with warm temps, no wind, and solid snow base.
Another notable memory was Hoody's repair to his bindings and full Patron bottle in Von's parking lot.
Pix in Costco Group Room
---

Big Thunder XII 2007
Semi dysfunctional travel, with Commish and Coach driving separately to take advantage of a snowfall after a very dry year. Stayed in house in Brockway with great kitchen and walking distance to Cal Neva resort.
---

Big Thunder XII 2006
Where: North Lake Tahoe@ 8577 Dolly Varden, KingsBeach, Ca 96143. VRBO 55451. 4 bedroom, 2 bath downscaled from thunder pads but great house for the price. Game Room not really usable but exceptionable hot tub.
When: Saturday Feb. 25 thru Wednesday Mar 1 2006
Who: Martin, Lloyd, Dave O., Dave V., Barry, Jim, Tony, Bill, Eric, Bob
How: chevy thunder van from Enterprise
Ski notes: Only Skied 2 days due to rain. Sunday at Squaw, windy with a lot of lifts not running. Not much memorable. Monday was rainy so we sat it out. Tuesday was at Mount Rose( 2 for 1 price); great snow! Sat on road for 45minutes - almost turned around. Fresh powder on the backside. Weather was windy with some white out but the powder was worth it. Tree skiing was especially good.
Highlights
Thunder Spirit Award to Barry: Bound and determined to keep it going on Monday night, but was at the top of his ski game on Tuesday. We were impressed.
Food: Chicken Piala by Martin, Lloyds famous stew, chili and Garwood Inn happy hour. Lloyd eased the pain with his candy bars. Garlic bread would have rivaled Garwoods except it was slightly overcooked.
Poker: Casino Dave racked it up at Crystal Bay Club on Tuesday night (can' print amount due to IRS issues). Bill and Smokey were also in the black. Martin took top honors at the house with 'winner take all' Night Baseball (Barry, Coach, and Bob in final hand)
Other Gaming: Commish dominated backgammon (claimed to have karma control).
Rain out day on Monday: Went to Incline Village Bowling Center- Awesome day. Bowled, played Pool, and great time on golf simulator. Hoodie worked the video poker (or visa versa). Bob successfully hit the bowling pin gate when it was down 'this clearly exposed his bowling prow less (some believe Tony hit the reset button at the wrong time).
Movie favorites: Clint in Outlaw Josey Wales, Brazil
Thunder Phase: We used the '. out of it. Katelan at Garwood' 're ! you going to be babies and stop drinking?
Best Ski crash: tony tipped on flat ground and couldn' get up (getting old).
Most under used tool: bobs razor (ask Barry)
---

Big Thunder XI- 2005 Southshore
Hoody out due to ACL
Beautiful conditions
Where: South Lake Tahoe@ 1437 Wildwood. Stayed at house in sight of Heavenly. 5 bedroom, 4 bath Monster. Game room with pool table and ping pong table. Great Hottub, Big screen TV. Kitchen was weak.
When: Saturday Feb. 26 thru Wednesday March 3rd
Who: Martin, Lloyd, Dave O., Dave V., Barry, Jim, Tony
How: Tony?s Avalance ( with thunder horns), Dave?s Toyota Truck, Barry?s Rental Jeep
Ski notes: Skied all 3 days at Kirkwood, great snow. Got 6-12 inches of powder on Sunday night. Board Boy was in heaven, most of us sucked but keep on swooshing.
Last day was only Jim, Tony, Lloyd.&nb! sp; Dave O. and Martin drove back Tuesday Morning, Smokey was cabin boy.
Highlights:
* Bill and Bob Bailing (bummer)
* Hoody damaged goods ? a no go
* Barry went early, flew into Reno, met us on Sat. night
* Dumped the thunder van ? to many wafflers
* Jim?s SIRUS radio was big ? non stop music, football, etc.
* Martin?s cooking a thing of beauty (fish, soup, salad)
* Barry?s double bake on Sunday
* Barry actually looked like he knew how to ski powder
* Jim actually won at thunder poker ? gave it to the casino playing craps
* Buffet at Harrahs on Monday night ? no seafood night ? bummer
* Great Movies on the BIG screen
* Nice Hot tub, big black dog became our guest
* Still didn?t finish the Gin
* Turkey(s)
* Beer from Argentina
* Really Big House
* Glider chairs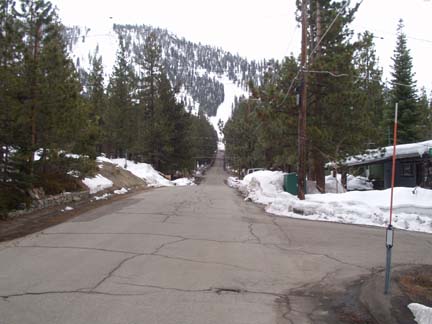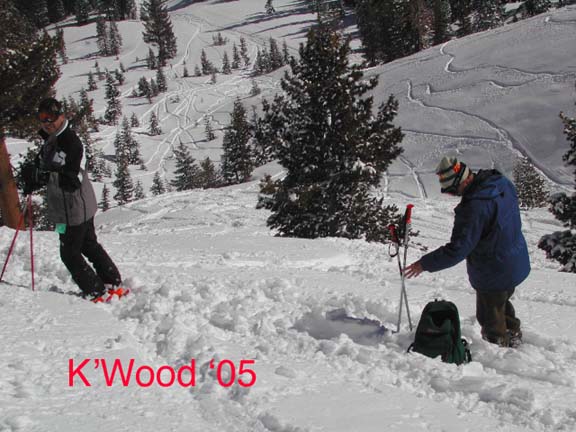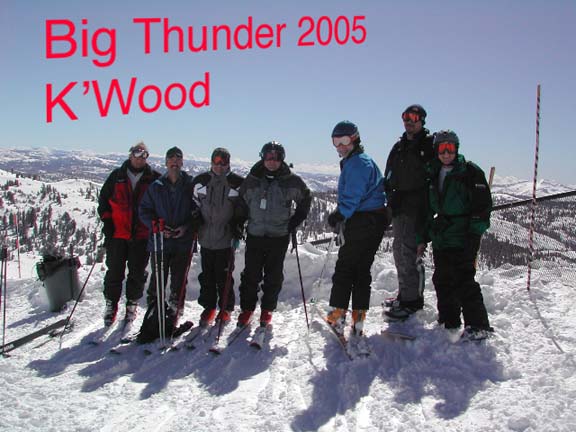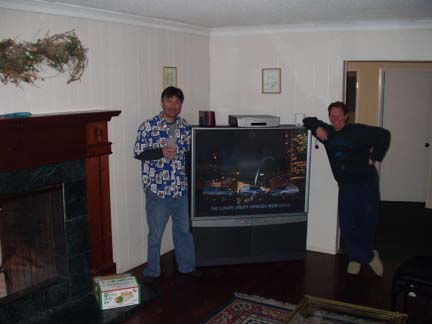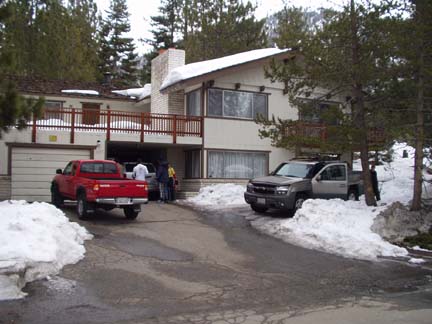 ---

Big Thunder X- 2004 Utah
Travel was mixed- Flying in on Sat 2/21 was Barry, Tony, Bob, Bill, Coach, Smoke, Martin, and waffling out of the road trip was Double Down on the big R nickel. Hoody and Jim left Fri in the Mitsubishi Endeavor with Thunder Bull Horns.
Flyers skied Canyon on day 1
Stayed in duplex at 1342 E Vine in Salt Lake City.
Sunday skiied Solitude (10th Anniversary Photos)
Monday Skiied Brighton
Tuesday was wet and overcast at Snowbird, Hoody and Smoke take day off. Smoke learns Big Thunder relaxation techniques, Both get extensive ski education at SLC shop
Tuesday night part of crew saw Jazz play Sonics, Hoody sees 1st NBA game and becomes expert in dealing with Scalpers. Others visit young Mormon girls at temple
Wed, crew split up. Barry, Tony, Bob, Bill, Coach, , Martin, skiied Brighton again, Lloyd stayed back to clean house, Smoke, Jim and Hoody skiied Snow Basin
Thursday bright and early Hoody and Jim take Dave to SLC, point the horns towards SB.
Highlights
Best poker game- best looking hand of vaguely asian women cards
T Bone forgetting suit and still taking hot tub
Free lift ticket at Canyon for flyers
Absolute inability to meet for lunch or apres ski at Solitude
Biscuits and Gravy breakfast
Monday night Nachos hors devours complement a fine dinner consisting of a bowl of rice errr roasted eggplant risotto. Let me explain to you how they differ. Rice is a side dish and it cooks itself. Risotto is often times considered a main dish and requires some "real cooking"
Coach crashes- wakes up in Kirkwood. First Big Thunder concussion?
Smoke working the phone and dial up internet to find a discount lift ticket for every day. Brighton for $38, Solitude for $40
Smoke at Snow Basin passing off as ski shop owner for dealer demo day. He is the Big Thunder expert on the latest skis for the upgrading Thunderite
---

Big Thunder IX: 2003 Went to Northshore (Saturday: Wednesday)
Car: Rented thundervan with tinted windows (7:00 am start time)
Who: Dave O., Dave V. Bill R. Tony C. Lloyd, Eric, Jim, Martin,
Stayed: Jollymore house in Dollar Point at Northshore Tahoe. 4 bedroom with plenty of beds. Nice setup with Kitchen, Dining Room and Living Room all one room
Ski: Squaw, alpine, Northstar, Squaw and Alpine were good, Northstar was cloudy and a bit icy.
Weather: Warm and Sunny on Sunday, Monday. Overcast on Tuesday
Food: Martin hooked up some awesome salmon and prawns from Jordanos. The meals were incredible. Tony brought up some Beef and Pork Ribs. Lloyd brought up some great ?. Martin cooked ? on Tuesday night. We didn't go out to eat but had happy hour at Garwoods (great appetizers)
Highlights:
Hoodie's skis broke at Squaw. He had to get rentals with no credit card or drivers licence
Sponge Bob road on the mirror
Fred the dog (Mika) joined the party (guest of Hootie)
First year Photos viewed each night on TV (Tony and Bill)
Yard Sale by Jim at Northstar (caught on film)
Called Barry at work Monday morning: he outlined how to play shit on your neighbor.
Nice shots at Squaw at end of day. Snowshoes from "Korbel girls". Got to keep shot glasses and Tshirts.
Jollymore house worked out fine. Plenty of room but sure missed pool table and hot tub
Best poker hand: Both Lloyd and Coach had 5 eights (had to split hand).
Most popular poker hand: Hooties revenge: jacks or better to open but trips to win.
Most popular saying: Donkey punch.
Great Poker night on Saturday and Tuesday nights. Went to casinos on Sunday and Monday night. Everyone did fairly well. Coach was big winner. Crystal Bay Closed but will reopen in summer of 2003
---

Big Thunder XIII: 2002 Went to Northshore (Saturday: Wednesday)
Car: Rented thundervan (not the triton v10 but ok): no tinted windows
Who: Dave O., Dave V. Bill R. Tony C. Lloyd, Eric, Jim, Martin, Barry, Bob
Stayed: Thunder house north. Big 6 bedroom house with pool table, hot tub, lots of room
Ski: Squaw, alpine, Northstar
Highlights:
Food: The salmon that wouldn't die, homemade chicago pizza pie by Jim (4 pounds of meat each), double bake of course. Awesome dinner out.
Pool table a blast two balls stuck in corner pocket: is that possible?
Pool table not level added a bit of challenge
Bring on the high priced tequila: wasted on Tonyhe gave it back (and more)
New skiis: tony, lloyd
Great weather
Bear in tree at alpine
Thunder Sponge Bob comes alive
Squaw final treats us right: great skiing, Northstar icy but breaks up in afternoon.
---

Big Thunder XII: 2001 Southshore
Car: Second year of thunder van (used hertz, our original scheduled van from enterprise got crashed
Roster: Dave O., Dave V, Bill, Tony, Lloyd, Eric, Jim, Martin, Barry
Stayed: Private House at Tahoe Keys
Ski: Kirkwood, Kirkwood, Homewood
Highlights:
Had to chain up on trip in. We tried to 4wheel but they caught us
Lift tickets (44 @ kirkwood, 25 @ Homewood
Wheel of Fortune (Hootie hit's the jackpot!)
Jim brought a prime rib to cook (the beast), Lloyd fired up the tofu stew
Connection tubes
New Poker game takes hold (free market). We're still not certain on the rules
(pure free market versus bidding, versus betting)
Awesome skiing at Kirkwood, actual fresh powder
Awesome views at Homewood
Lloyd gets spanked by the chair as he rushed to make the trip up at homewood
Best double bake ever due to special stop at San Luis Bakery
Waterfall stop at Madonna Inn
Hot tub a hit (combined with snow dives)
Brazilian girl at Kirkwood a beauty
Blackjack dealer at Bill's hits on a soft 20 (probably looses job)

---
Car: First year of thundervan, a brainstorm by Jim (V10 Triton)
Who: Dave O., Dave V, Bill, tony, Bob, Jim, Eric, Barry, Lloyd
Stayed Kingswood
Ski: Northstar, Alpine, Squaw
Highlights:
Eric fell playing football in Ventura
Fat Tuesday with waitress at top of squaw
Tony slept in closet
Went to Reno
---
Who: Dave O, Dave V, Bill, Tony, Lloyd, Martin, Jim, Eric, Barry, Bob
Car: tony truck, martin truck, smoky's benz, lloyd's van
Ski: Mammoth, June, Mammoth (snow sucked)
Where: Big condo
Highlights:
Craps table
Barry struggled at June
Burned ice chest
Happy hour at whiskey creek, went to thunder bar
Rented movies (tony and smokey)
Eric stayed when we went to June and took closet apart.
Left on Saturday, back on Wednesday
Who: Dave O, Dave V, Bill, Tony, Rich, Jim, Bob, Martin
Car: Dave's green Jimmy, Jim's sport
In townhome at kingswood
Ski: Alpine Meadows, Apline again, Rose
Highlights:
Thunder football
Went to jacizzi, Rich jumped in lake
Year of the Bangs yardsale
Traveled to southshore for fish, met craig
Jim recycled in a "40"
Motorcycle grand prix
---
Big Thunder III 1997. Northshore
Left on Wednesday back on Sunday
Went to North Shore:
Who: Lloyd, Tony, Dave O, Dave V, Bob, Bill, Jose, Eric
Car: Barry's van and Eric's Jeep (Flat tire and new headlight)
Ski: Northstar, Alpine, half day at Rose
Highlights:
Hootie crashed and wore a Kotex (from Tony's bag)
Barry coined are you in? caused by grand marnier and pentagon
Whatever any naked guy asks in the middle of the night, say no
Bob did boarding
---

Big Thunder II: 1996,
Who: Lloyd, Tony, Bob G., Dave O, Dave V, Barry, Bill
Car: Dave's Van, and Bob's Truck
Trip: Left on Wednesday back on Sunday Snowed on way in, had to use chains
Where: Townhome with the dorm upstairs
Ski: Heavenly, Kirkwood, Snow on third day
Highlights:
Tried to rent snow mobiles
Played poker with sunflower seeds
Jim performed the waffle
Near colison with hay truck coming down from Kirkwood
Outstanding skiing at Kirkwood
First fish feed on Friday night
Introduced movies!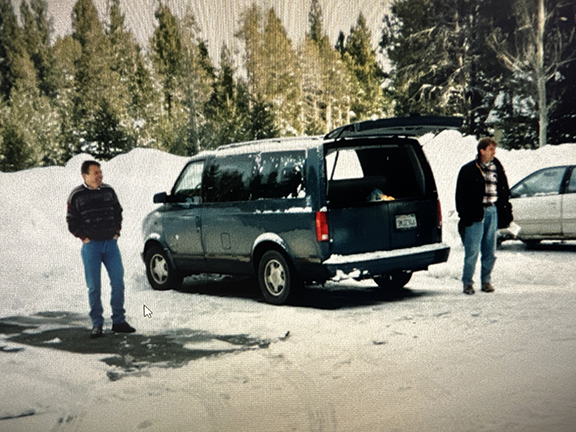 ---

Big Thunder I: 1995
Who: Richard, Bill, Dave O, Dave V, Barry, Eric
Car: Richard's bald tire suburban. Alternator went out in Cholame on way back. 4 wheel drive went out on trip up.
Where to: Went to South Shore Lake Tahoe.Eric, Start on Wednesday and back on Sunday -2 bedroom condo with Swedish fireplace with no firewood, just used gas.
Ski: Day one at Heavenly, Day two skipped due to snow, Day three back at Heavenly
Highlights:
Eric stole richard's underwear
Richard bet his lift ticket in a poker game
The origin of thunder
Barry at the last minute
Barry did double bake
Big Thunder Nation